Eagles Nest
Eagles Nest is a one of a kind northwestern Montana mountain getaway.  It is 3300   sq. ft. and features 3 bedrooms and 3 full bathrooms.  The Nest sleeps 8 people.  The views from this cabin feature the stunning mountains and the famous Star Meadows with its two headwater creeks, Griffin and Shepherd.
The nest has two levels, with the entire top level being a master suite with private walk out patio. On the main floor there is an open concept full kitchen that flows into the dining and living rooms.  The living room has a large smart TV and several comfortable seating options.  The dining room can sit up to 12 people and overlooks the stunning meadow.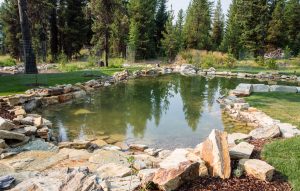 The kitchen is fully equipped with anything you may need to cook and serve up to 12 people and has stainless steel appliances.  The entire building has a Sono sound system that can be linked to phone, tablet, or TV, and can also play different music on each level of the cabin.  Get ready for the ultimate entertainment space for your wedding, retreat, family reunion, or your much needed getaway.  The cabin has Wi-Fi, Direct TV, and a telephone for your convenience.
Enjoy the outdoors with a beautiful walk out patio that features a BBQ grill and plenty of patio furniture.  Watch the sun go down over the meadow, dip your toes in our custom pond, or roast marshmallows over the fire pit.
This cabin is perfect for your bridal party, luxury getaway or romantic honeymoon.  All you have to do is pack your bags and get here; we'll take care of the rest.  Come join us in beautiful Northwest Montana for an experience you will talk about for years.
General
In floor radiant heat
Ceiling fans
Washer and dryer
Bath and kitchen towels
Linens
Wireless Internet
Kitchen
Dining room seats 10-12
4 island seats
Dishwasher
Oven/ Range combo
Microwave
Cooking utensils
Pots and pans
Dishes and utensils
Toaster
Blender
Coffee maker
Starting Supplies
Coffee
Paper Towel
Toilet Paper
Dish Soap
Laundry detergent
Hand Soap
Entertainment
Direct TV
Smart TV in Living Room
Smart TV in private suite
Sono ceiling speakers
Wifi
Listen to music through your phone or tablet
Outside
Private balcony in Suite
Walkout Patio
Bedroom 1 is on the main floor, it has a queen bed, full bath down the hall
Bedroom 2 is the first suite; it has a queen bed, soaker tub, walk in shower, double vanity, and private toilet.
Bedroom 3 is the master suite which is the entire top floor of the cabin; it has a king bed, custom shower and soaker tub, double vanity, toilet, wet bar, table for two, entertainment area with couch and TV, and a private walk out balcony.
Booking Deposit: 50% of deposit is due two weeks from receipt of Rental Agreement. Balance is due at the time of arrival.
Security Deposit: A credit card is required to hold the security deposit. Security deposits will be calculated for each specific event but the credit card will only be charged if necessary.
Cancellation Policy: Deposits are final and non-refundable.
Rental Terms & Conditions
1. Guests acknowledge they have read the following section of the Montana Residential Landlord and Tenant Act, MCA § 70-24-232 (1977) and agree to comply herewith. Tenant[s] shall:
a. Comply with all obligations primarily imposed upon tenants by applicable provisions of building and housing codes materially affecting health and safety;
b. Keep that part of the Premises that they occupy and use as reasonably clean and safe as the conditions of the Premises permit;
c. Conduct themselves and require other persons on the Premises with their consent to conduct themselves in a manner that will not disturb their neighbors' peaceful enjoyment of the Premises;
d. Use the parts of the Premises including the living room, dining room, kitchen, bedrooms, bathrooms, and any additional areas in a reasonable manner considering the purposes for which they were designed and intended;
e. Guests may not destroy, deface, damage, impair, or remove any part of the Premises or permit any person to do so;
f. Owners shall not be liable to Guests nor insure Guests for any personal injury or property damage caused by the act or omission of any Guests or third party; and
g. Guests hereby agree to indemnify and hold harmless the Owners for all claims which may be made by Guests and third parties against the Owners during and arising out of the Guests' occupancy of the Premises.
2. Persons other than those numbered herein may not park overnight or camp on the Premises.
3. Hunting and the use of firearms (including BB, paint ball and air guns) require permission from Caretakers and valid Montana licenses. Fishing Licenses are not necessary inside Glacier National Park or on Green Valley Ranch property; they are required on the Flathead River system and can be obtained in Coram or West Glacier.
4. No fireworks unless written permission has been obtained from the Owners.
5. OPEN fires. Open fires are also called Bon-Fires, Burn Piles and anything that isn't inside a approved ring. We have a fire ring that can be used when burning/fire restrictions are in place. We have an Open Fire pit that you can use when fire restrictions aren't in place. Check with owner regarding these restrictions.
6. No smoking inside any of the buildings at any time or outside during a "burn ban" (as determined by the Hungry Horse USFS). Please properly dispose of cigarette butts.
7. Please observe check-in and check-out times, unless advance arrangements have been made with Owner
8. Please make appointments with the Caretakers to tour the Property in advance of rentals.
9. Check In: After 3 pm
10. Check out: Before Noon