About The Ranch
We are a small family owned ranch that sits at the foothills of the Salish Mountains just west of Whitefish MT.  The property consists of  360 acres and features meadow, forest, and Shepherd and Griffin creeks.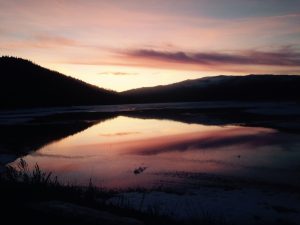 There are two different sets of infrastructure that represent  the past, present, and future of this unique property.  The old homestead is the first thing you will see upon entering the ranch; it features a main lodge, bunkhouse, barn, and several other outbuildings including the original trappers cabin.  One mile up the road and through the meadow brings you to hilltop where our four custom cabins sit nestled among the trees and wilderness.
With the ranches remote location and acreage the wildlife is abundant. You will frequently see deer, moose, beavers, bald eagles, and owls on the property.  During the spring and early summer the property is flooded with wild birds including: cranes, ducks, geese, swans, hummingbirds, and more.  The property also serves as a pass way for big predators including wolves, coyotes, mountain lions, black bears, and grizzly.  Although it is rare to see many of these predators it is common to hear the wolves or coyotes howling at night.
The Ranch provides endless space to roam and explore, feel free to bring your toys and trailers because we have ample room to accommodate all of your favorite activities.  With 360 acres the privacy is surreal.  The property is also surrounded by both state and federal land with trailheads leading right off the property and surrounding area.  Tally Lake is only a short 8 miles down Star Meadows road and is great for fishing, hiking, and all your favorite boating activities.  Star Meadows also features Sylvia Lake and Round Meadows, which is a popular cross county skiing trailhead.
Downtown Whitefish is about a 30-minute commute and offers great restaurants, nightlife, Big Mountain Resort, a golf course, unique shops and a fun atmosphere.  World-renowned Glacier National Park is approximately 30 minutes from downtown Whitefish and offers stunning views and fantastic trailheads.
The owners live one mile from the cabin for your convenience should you need anything during your stay.  We invite you to come relax, explore, and enjoy this beautiful place we call home.