Your Dream Wedding
Looking for the perfect location for your wedding?  What about housing for all your family and guests?   Located in one of the most stunning natural environments in Northwest Montana, Star Meadows Ranch is a wedding destination in the purest sense.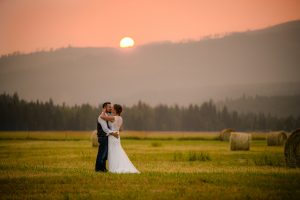 360 acres of mountain, meadow, and stunning headwater creeks provide almost limitless opportunities for breathtaking ceremonies, intimate brunches, and festive receptions.  Star Meadows Ranch weddings are designed to avoid the stress associated with metropolitan venues and destination wedding arrangements in tourist hubs.
While only 30 minutes from the resort town of Whitefish, the ranch is far enough away to unplug, unwind, and enjoy.  We offer 4 custom cabins that can sleep 50 people comfortably.  Original structures, such as the old homestead cabin, set against the meadow and Big Sky grandeur serve as a vivid contrast to the refinement of your event and ensure awe-inspiring photography.
Feel free to plan your wedding exactly the way you want, either by yourself, with the help of one of our staff, or with your own wedding planner.  This is your special day and we want it to be the wedding of your dreams.  Contact us for rates and more on all we have to offer.
Our Packages
Pricing: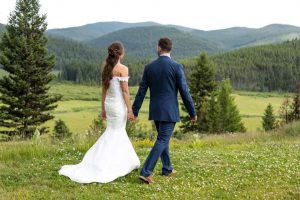 3-night Weekend Package = $22,000
2-night Weekday Package = $17,000
1- night Weekday Package = $12,000
1-day Weekday Package = $5,000
*To set up a customized package please contact us via email or phone to discuss details and options.
What's included:
Use of all four main cabins, can sleep up to 55 people.
Additional accommodations are available for an added cost.  Additional housing includes 3 A-frame style homes and 4 glamping tents.  Total sleeping capacity with all accommodations is 85.
6000 sq foot pavilion featuring in-floor radiant heat, stone stacked fireplace, his/hers bathrooms, mobile bar, lighting, fans, in ceiling speaker system,  PA system, large kitchen with commercial grade appliances and ice machine.
Large Bar and Game room
Custom wood tables and benches for 100 people
60 in Round tables with chairs and linens for 100 people
8 ft Banquet tables with chairs and linens for 100 people
300 white folding chairs for ceremony
Use of all outdoors space, 360 acres total (mountain, meadow, stream, forest)
Custom pond and fire pit
Patios, BBQ grills, outdoor seating, and yard games.
Dinnerware, we have the following items available: salad plates, dinner plates, dessert plates, entrée bowls, silverware, steak knives, drinking glasses, and coffee mugs.  Enough to serve 300.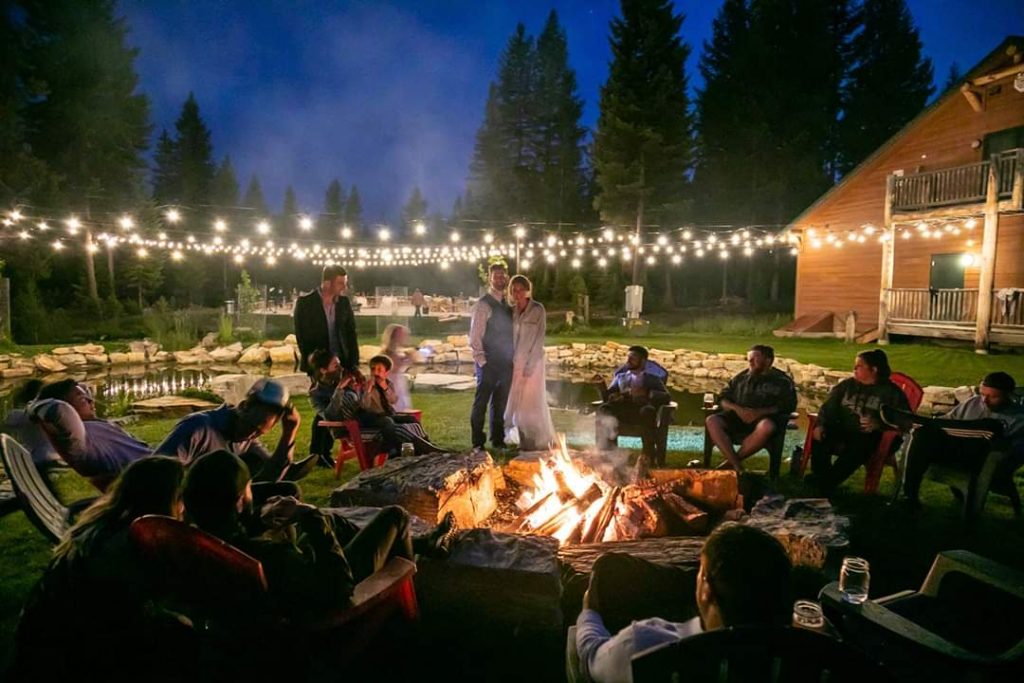 Other details:
Music, band, or DJ may be enjoyed with no time limit (no noise ordinances, play until whenever you want)
You are invited to obtain your favorite catering service or bring your own food.
Pets may be allowed upon request.
Ample room to set up tents or any other features you wish to have.
You are required to purchase Wedding/Event insurance for the dates of your wedding.  Proof of policy must be submitted to SMR prior to arrival.